Market Segmentation :
By Type :
The type segment is classified into Programmable Logic Controller (PLC), Computerized Numerical Controller (CNC), Distributed Control System (DCS), Programmable Automation Controller (PAC), Supervisory Control and Data Acquisition System (SCADA), Industrial Automation and Control System (IACS), and Human-Machine Interface (HMI). Programmable Logic Controller (PLC) accounted for the largest market share in 2022 as PLCs offer diagnostic capabilities that assist in troubleshooting and preventive maintenance. PLCs log data, track performance, and provide alerts and enable timely maintenance and reduced downtime. Additionally, PLCs are designed to operate in harsh industrial environments with temperature variations, dust, humidity, and electrical noise. PLCs are built to withstand harsh conditions and provide reliable performance, crucial in industrial settings. For instance, Omron Corporation offers CP2E programmable logic controller for harsh environmental conditions. Thus, considering overall trends the growing demand for Programmable Logic Controller (PLC) is expected to drive the market growth.

Distributed Control System (DCS) is predicted to witness the fastest CAGR in the industrial controllers market during the forecast period. The growth is attributed to the expanding industrial automation for efficiency, cost savings, and improved control that raises the demand for DCSs. DCSs provide a centralized platform for monitoring and controlling complex processes, becoming a crucial component in industrial automation. Additionally, DCSs enable remote monitoring and control, especially valuable for industries with distributed facilities to operate in remote or hazardous environments. Moreover, DCSs are incorporating advanced analytics and machine learning capabilities to improve predictive maintenance and process optimization. In conclusion, the aforementioned factors are contributing collectively to bolstering the growth of industrial controllers market.
By Control :
The control segment is categorized into open loop control, closed loop control, on-off control, feedforward control, and feedback control. On/off control accounted for the largest market share of 34.71% in 2022 as on/off control is one of the simplest and most cost-effective control strategies. In addition, on/off controllers are used in industrial processes with harsh conditions and withstand harsh environments to provide reliable control without the need for frequent adjustments. Moreover, on/off control system also contributes to energy saving capabilities, further contributing to the demand for on/off control.

Closed-loop control systems are expected to witness the fastest CAGR in the industrial controllers market owing to the rising demand from manufacturing, chemical processing, and pharmaceuticals industries to maintain product quality and consistency. Additionally, closed-loop control allows for more efficient use of resources, including energy. Closed-loop systems continuously monitor and adjust the control output in response to changing conditions and optimize energy consumption, leading to cost savings and reduced environmental impact.

Moreover, closed-loop control systems play a central role in process automation by providing real-time monitoring and adjustment of variables, further contributing to the growth of the market.
By Application :
The application segment is divided into pumping and ventilation, electrical charging, waste water management, assembling and filling, smart grid, and others. Smart grid accounted for the largest market share in 2022 as industrial controllers manage and coordinate the operation of distributed energy resources (DERs) including solar panels, wind turbines, and battery storage systems. Industrial controllers ensure the power generation and consumption are balanced to maintain grid stability. Moreover, controllers collect data from sensors and meters placed throughout the grid, enabling operators to monitor voltage levels in real-time. For instance, in January 2023, ABB invested in OKTO GRID to digitalize the energy grid to meet the growing demand for reliable and stable power. Furthermore, the increasing investments by key players in developing smart grid systems is also contributing notably in fueling the market growth.

Electrical charging accounted for the largest market share in 2022 as industrial controllers are used to manage and control the operation of charging stations, including monitoring the availability of charging ports, handling user authentication and payment processing, and coordinating the charging process. Additionally, controllers ensure that electrical charging stations distribute power efficiently, avoiding overloading the grid or the charging infrastructure. Moreover, industrial controllers are also responsible for safety functions including monitoring temperature and voltage levels during charging to prevent overheating and overvoltage conditions. Subsequently, the aforementioned factors are contributing significantly in bolstering the growth of industrial controllers market.
By End-User :
The end-user segment is divided into food processing & beverages, automotive, manufacturing, transportation, energy & utilities, oil & gas, and others. Manufacturing sector accounted for the largest market share in 2022 as manufacturing involves complex processes that require precise control of variables including temperature, pressure, flow rates, and material handling. Industrial controllers play a crucial role in ensuring that the processes run efficiently and consistently, leading to higher product quality and reduced waste.

Additionally, manufacturers are increasingly focused on energy efficiency to reduce operational costs and minimize the environmental footprint. Industrial controllers help to optimize energy consumption by regulating equipment and processes to operate at peak efficiency. Moreover, manufacturing equipment has long lifecycles, and industrial controllers need to be reliable and durable to support extended operations. Manufacturers invest in proven and reliable control systems, contributing to the dominance of industrial controllers in manufacturing sector.

Automotive sector is predicted to register the fastest CAGR in the industrial controllers market in the upcoming years. The growth is attributed to the shift towards electric vehicles as industrial controllers are used to charge and discharge EV batteries efficiently. The controllers monitor battery health, balance cells, and ensure safe charging. Additionally, the controllers also manage the power electronic systems including inverters and converters, crucial for converting DC power from the battery to AC power for the electric motor and vice versa. Subsequently, the increasing sales of electric vehicles is contributing remarkably in bolstering the growth of industrial controllers market. For instance, according to Canadian government, 303,073 hybrid electric vehicles, 152,685 battery electric vehicles, and 95,896 plug-in electric vehicles were registered in Canada in 2021.
By Region :
The regional segment includes North America, Europe, Asia Pacific, Middle East and Africa, and Latin America.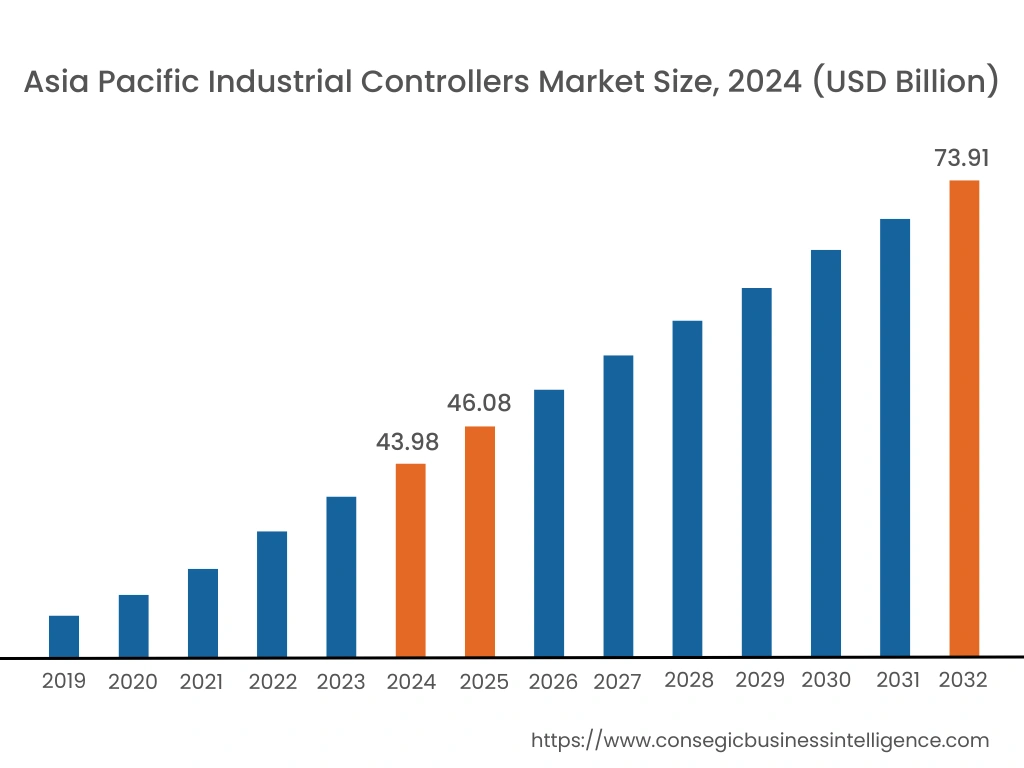 North America is estimated to reach over USD 85.41 Billion by 2031 from a value of USD 50.57 Billion in 2022 and is projected to grow by USD 52.56 Billion in 2023. North America encompasses diverse range of advanced manufacturing industries, including automotive, aerospace, electronics, and pharmaceuticals. The industries rely heavily on industrial controllers for automation, process control, and quality assurance. Additionally, North American industrial sector has a strong automation base to improve productivity, quality, and efficiency, driving the demand for industrial controllers, essential for automating manufacturing processes.

Asia-Pacific is expected to grow with the highest CAGR growth of 6.7% and is estimated to reach over USD 59.49 Billion by 2031 from a value of USD 33.86 Billion in 2022 and is projected to grow by USD 35.31 Billion in 2023. In addition, in the region, the China accounted for the maximum revenue share of 33.6% in the same year.

Asia Pacific countries, particularly China, is becoming major manufacturing hub for the global economy. The region's expanding manufacturing base drives the need for advanced automation and control systems, including industrial controllers, to enhance productivity and competitiveness. Additionally, the Asia Pacific region has been investing heavily in infrastructure development, including smart cities, transportation networks, and energy infrastructure. The initiatives require advanced control systems to manage and optimize critical infrastructure components. For instance, in September 2023, according to Ministry of External Affairs, India and United States partnered together for Global Infrastructure and Investment (PGII) and India-Middle East-Europe Economic Corridor (IMEC). The partnership aims at unlocking greater investment for infrastructure development and strengthening connectivity in various dimensions between India, Middle East and Europe.