Market Segmentation :
By Solution :
The solution segment is classified into gas monitoring, luminance monitoring, illuminance monitoring, fire monitoring, visibility monitoring, and airflow monitoring. Visibility monitoring tunnel sensors accounted for the largest market share in 2022 as visibility is a paramount concern in tunnel safety. Poor visibility conditions, due to fog, smoke, and dust leads to accidents, collisions, and hazards for drivers and pedestrians. Additionally, ensuring clear visibility inside tunnels is crucial for reducing the risk of accidents and improving emergency response. Visibility monitoring sensors provide real-time data on visibility conditions, enabling operators to take action in case of reduced visibility due to smoke, fog, or other factors. For instance, SICK AG launched VICOTEC450 tunnel sensor for visibility monitoring in tunnels. The advanced sensor draws air from inside the tunnel and determines the visibility with a high level of accuracy using scattered light technology, hence contributing notably in boosting the growth of visibility monitoring segment.

Gas monitoring tunnel sensors are expected to witness the fastest CAGR in the tunnel sensor market in the upcoming years. The growth is attributed to the increasing focus on air quality standards and pollution control by governments and environmental regulatory bodies. Tunnels accumulate pollutants from vehicle emissions, posing health risks to tunnel users and contributing to urban air pollution. Gas monitoring sensors enable compliance with air quality regulations by providing real-time data on pollutant levels. The real-time data enables operators to take immediate actions in response to sudden spikes in pollutant levels or the presence of hazardous gases, minimizing exposure and risks to users. Furthermore, many regions are actively working toward reducing greenhouse gas emissions and pollution from vehicles. Gas monitoring tunnel sensors play a crucial role in assessing emission levels within tunnels, contributing to emission reduction strategies, and encouraging cleaner transportation options. In conclusion, the ability of gas monitoring tunnel sensors to provide real-time data on pollutant levels is predicted to drive market growth during the forecast period.
By Service :
The service segment is categorized into installation services, monitoring services, maintenance services, consulting services, and repair services. Monitoring services accounted for the largest market share in 2022 as monitoring services offer a cost-effective alternative to sensor monitoring systems. Additionally, monitoring services include ongoing maintenance as service providers manage sensor calibration, troubleshooting, and repairs, reducing the burden on tunnel operators and ensuring consistent sensor performance. Moreover, monitoring services offer real-time data analysis and alerts, ensuring timely responses to changing conditions. Immediate notifications enable proactive interventions in the case of emergencies and abnormal sensor readings, thus contributing remarkably in fueling the growth of monitoring services segment.

Maintenance services are anticipated to register the fastest CAGR as preventive maintenance is essential for avoiding unexpected breakdowns and costly downtime. Maintenance services provide regular inspections, diagnostics, and adjustments to identify and address potential issues before leading to major failures. In addition, regular maintenance extends the lifespan of equipment, reducing the need for frequent replacements, thus encouraging businesses to invest in maintenance services to maximize the longevity of the assets. Moreover, maintenance services optimize the performance of equipment by fine-tuning settings and calibrating sensors, ensuring that systems operate at peak efficiency, saving energy, and improving productivity. In conclusion, the above-mentioned factors are contributing remarkably in spurring the growth of the maintenance services segment during the forecast period.
By Connectivity :
The connectivity segment is bifurcated into wired and wireless. Wireless tunnel sensors accounted for the largest market share in 2022 and are also predicted to witness the fastest CAGR during the forecast period. Wireless sensors eliminate the need for extensive wiring, conduits, and cable management, simplifying the installation process, reducing installation time, and minimizing disruptions to tunnel operations. Additionally, wireless sensors are easily repositioned or relocated, offering improved flexibility and enabling tunnel operators to adapt to changing conditions, expand sensor networks, and optimize data collection strategies. In conclusion, the improved flexibility offered by wireless tunnel sensors is contributing remarkably in fueling the growth of the market.
By Application :
The application segment is divided into road tunnels, rail tunnels, underground infrastructure, and others. Road tunnels accounted for the largest market share of 45.5% in 2022 as tunnel sensors play a vital role in road tunnels by providing real-time data and insights that contribute to safety, traffic management, and tunnel operations. Sensors measure air quality parameters including carbon monoxide (CO), nitrogen dioxide (NO2), particulate matter (PM), and volatile organic compounds (VOCs). The data helps assess and maintain healthy air quality levels within the tunnel, minimizing health risks to drivers and passengers. Additionally, tunnel sensors monitor visibility conditions within the tunnel, crucial for maintaining safe driving conditions, especially in scenarios involving fog, smoke, and other visibility-reducing factors. Subsequently, the aforementioned factors are collectively responsible in bolstering the growth of the road tunnels segment.

Rail tunnels are expected to register the fastest CAGR in the tunnel sensor market during the forecast period. The growth is attributed to the ability of tunnel sensors to identify the presence of smoke or flames within the tunnel. Early detection of fires enables prompt responses including activating fire suppression systems, alerting emergency responders, and initiating evacuation procedures. In addition, tunnel sensors detect incidents namely collisions, derailments, and obstructions on the tracks. The information triggers immediate response measures, including alerting rail operators, and emergency services, and coordinating rescue operations. Furthermore, the increasing government initiatives in enhancing rail safety are also contributing significantly in boosting the market growth. For instance, April 2021, Network Rail of the United Kingdom funded approximately USD 595,065 and signed a contract with COWI to improve the accuracy, efficiency and safety of tunnels, resulting in a safer railway operation. Subsequently, the above-mentioned factors are collectively responsible in driving the growth of rail tunnels segment.
By Region :
The regional segment includes North America, Europe, Asia Pacific, Middle East and Africa, and Latin America.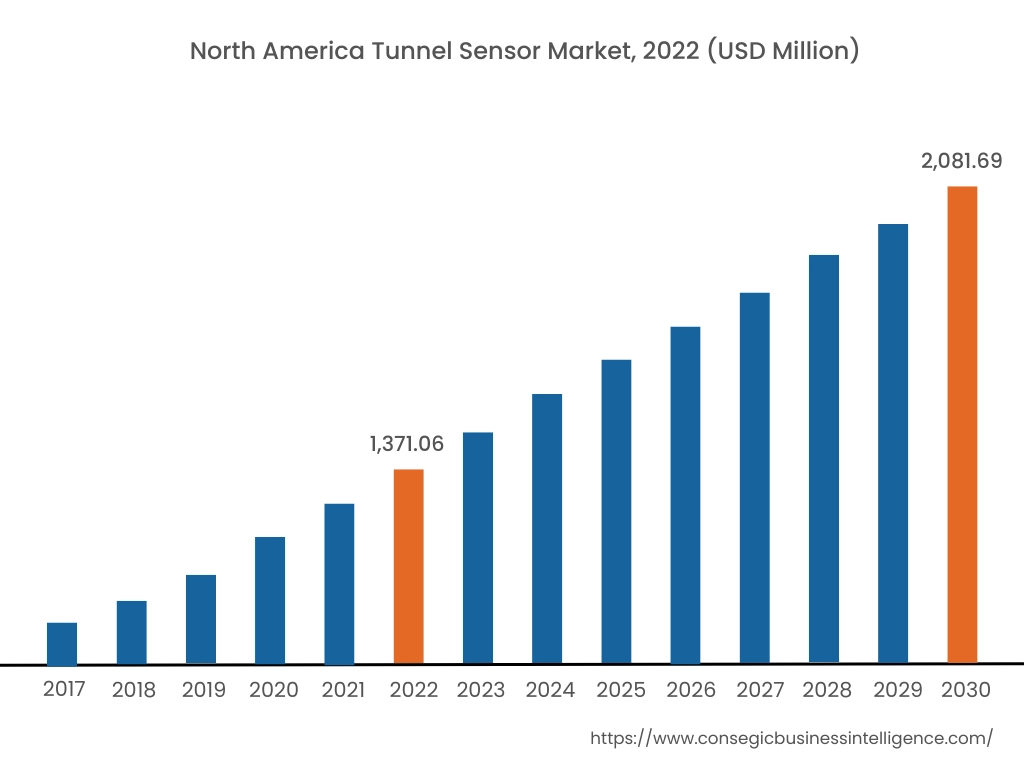 North America accounted for the largest market share of USD 1,371.06 million in 2022 and is expected to reach USD 2,081.69 million in 2030 in the tunnel sensor market. In addition, in the region, the U.S. accounted for the maximum revenue share of 61.4% in the year 2022. North America places a strong emphasis on safety regulations and standards. Regulatory bodies enforce strict guidelines for tunnel safety and air quality, driving the adoption of tunnel sensors to ensure compliance and the well-being of tunnel users. Additionally, governments and private sector entities in North America are investing heavily in infrastructure development and modernization including the implementation of advanced sensor systems to enhance the safety and efficiency of tunnel operations. For instance, in April 2023, the governments of Canada and Saskatchewan invested USD 42.1 million to support 21 infrastructure projects across the province. Consequently, the implementation of stringent government regulations and increasing government investments are the major factors responsible for driving the growth of the tunnel sensor market in the region.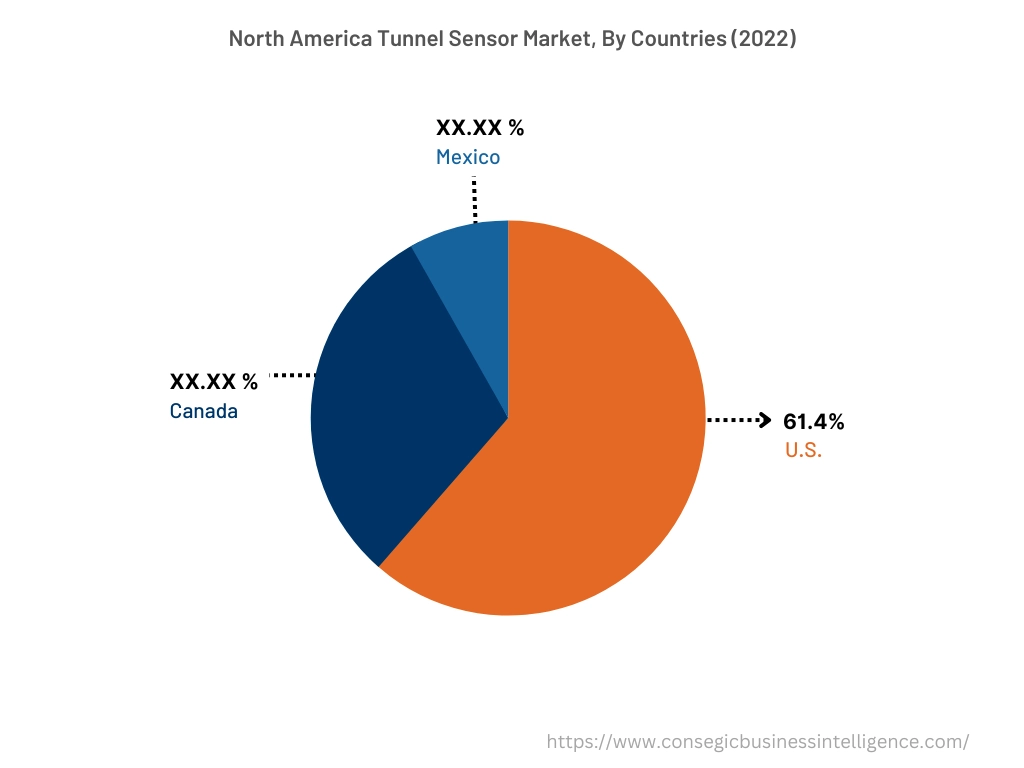 Asia Pacific is predicted to witness the fastest CAGR of 5.8% in the tunnel sensor market in the upcoming years. The growth is attributed to the presence of two densely populated countries including India and China that creates heavy traffic congestion. Tunnels are vital for efficient urban transportation, creating a strong demand for monitoring solutions to optimize traffic flow and ensure safety. Additionally, many Asia Pacific countries are becoming smart and connected, leveraging the Internet of Things (IoT) for improved urban management. Tunnel sensors are integral components of the initiatives, contributing to data-driven decision-making. Moreover, air quality and environmental concerns are also driving the adoption of sensors to monitor pollutant levels and emissions within tunnels. Asia Pacific countries' focus on sustainability aligns with the use of sensors to mitigate the impact of tunnel operations on the environment. Furthermore, the region has a diverse range of transportation modes including roadways, railways, and transit systems that require specialized sensor solutions to ensure safe and efficient tunnel operations.