Market Segmentation :
By Device :
The device segment is classified into smartphones, laptops, wearables, tablets, and routers. Smartphones accounted for the largest market share in 2022 and are also projected to witness the fastest CAGR during the forecast period. The growth is attributed to the widespread adoption of smartphones, with billions of users relying on smartphones as the primary communication device. In addition, modern smartphones are equipped with built-in VoLTE support features, eliminating the need to install additional hardware or software to access VoLTE services. Moreover, VoLTE offers superior voice quality compared to traditional voice services. The improved audio clarity, reduced background noise, and high-definition voice capabilities increase the adoption of VoLTE among smartphone users, valuing clear and reliable voice communication. In conclusion, the increasing adoption of smartphones is driving the growth of the voice over LTE market by enabling seamless communication. For instance, according to India Cellular and Electronics Association (ICEA), smartphone shipments accounted to 225.4 Million units in 2020 as compared to 206.5 Million units in 2019, with a rise of 9.2%. In addition, smartphone shipment is projected to reach 351.6 Million by 2024, thus contributing remarkably in propelling the growth of the VoLTE market.
By Technology :
The technology segment is categorized into Voice over IP Multimedia Subsystems (VoIMS), Circuit Switch Fall Back (CSFB), Simultaneous Voice and LTE (SVLTE), Single Radio Voice Call Continuity (SRVCC), and Voice over LTE via Generic Access Network (VOLGA). VoIMS accounted for the largest market share in 2022 as VoIMS is based on standardized protocols and architectures defined by organizations including 3GPP (Third Generation Partnership Project) and the Internet Engineering Task Force (IETF). The standardization ensures interoperability between different network elements and devices, enabling seamless voice communication across networks and vendors. Additionally, VoIMS offers advanced features namely seamless handovers, call routing, and enhanced service capabilities, thus becoming a comprehensive solution for voice services over LTE. For instance, in March 2022, GL Communications Inc. introduced MAPS Session Initiation Protocol (SIP) IMS, an IP Multimedia Subsystem (IMS) network to enable effective communication over VoLTE networks. The advanced technology enables seamless communication over LTE networks, thus contributing notably in fueling the market growth.

Circuit Switch Fall Back (CSFB) segment is anticipated to witness the fastest CAGR in the voice over LTE market during the forecast period. CSFB enables seamless migration from circuit-switched networks to VoLTE by utilizing the existing circuit-switched infrastructure. Additionally, CSFB allows LTE networks to switch to 2G or 3G networks for voice services, ensuring compatibility and uninterrupted voice communication during the transition phase. Moreover, CSFB ensures quality voice services are provided in areas with low LTE coverage or with 2G and 3G networks, allowing users to have effective voice communication. Consequently, the ability of Circuit Switch Fall Back (CSFB) to offer uninterrupted voice communication even in areas of low LTE networks is contributing significantly in boosting the market growth.
By End-User :
The end-user segment is trifurcated into commercial, government, and corporate. Commercial segment accounted for the largest market share of 41.4% in 2022 as the sector relies heavily on voice communication and VoLTE enables high-definition voice calls, providing improved call clarity for businesses including customer service centers, sales teams, and conference calls. In addition, VoLTE reduces call setup times compared to traditional circuit-switched networks, vital for businesses that require efficient communication, allowing for faster response times and improved customer service. Moreover, VoLTE supports RCS (Rich-Communication Services) that enables businesses to use enhanced messaging services, including group chat, file sharing, location sharing, read receipts, and video sharing. Consequently, the aforementioned factors are collectively responsible in propelling the growth of the voice over LTE market.

Corporate sector is projected to witness the fastest CAGR in the VoLTE market during the forecast period. VoLTE offers high-definition voice calls with superior voice quality and clarity, essential for corporate communication, ensuring clear and effective communication between employees, teams, and clients. In addition, VoLTE is seamlessly integrated with Unified Communications platforms, enabling businesses to integrate voice calls with other communication channels including instant messaging, video conferencing, and presence information. Furthermore, VoLTE supports various advanced call features, including call transfer, call hold, call waiting, conference calling, and call forwarding. The features enhance productivity and enable efficient call management within the corporate environment, thus contributing notably in accelerating the market growth. For instance, in March 2022, Mobicom Corporation launched advanced VoLTE technology in Mongolia to enhance call quality and enable seamless communication. VoLTE technology increases the frequency of the calls from 300-3400 hertz to 50-14000 hertz and also consumes less battery power, hence contributing remarkably in spurring the growth of the corporate sector.
By Region :
The regional segment includes North America, Europe, Asia Pacific, Middle East and Africa, and Latin America.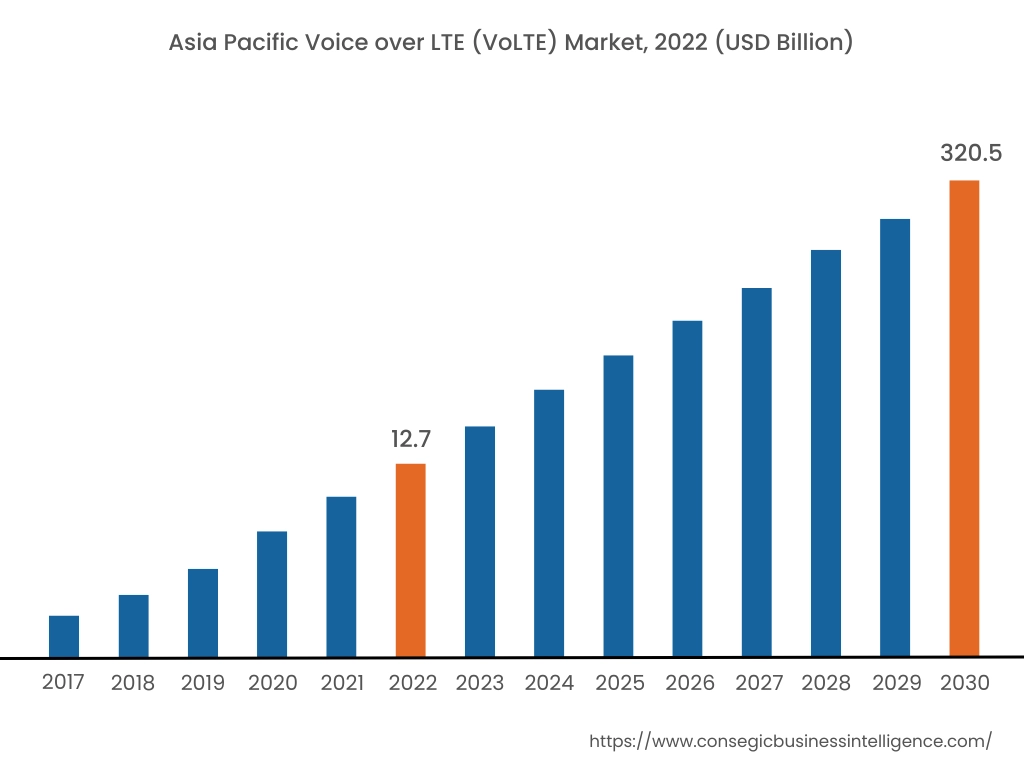 North America accounted for the largest revenue share in the year 2022 as the region, particularly the United States is at the forefront of LTE network deployments. In addition, the early adoption of 4G technology and significant investments in building robust LTE infrastructure is promoting market growth. Moreover, the increasing adoption of smartphones and development of 5G infrastructure in the region are creating a large customer base for VoLTE services to enable effective and seamless communication. Furthermore, the presence of key players in the region constantly applying innovations and strategic decisions to expand the market portfolio is also driving VoLTE market growth. For instance, in February 2023, Mavenir completed the migration of O2 mobile users to the virtualized IMS (IP Multimedia Subsystem) solution providing VoLTE solutions. The migration was made to offer improved flexibility and agility to consumers under the same platform and at lower costs, thus contributing significantly in bolstering the market growth.

Asia Pacific accounted to USD 12.7 Billion in 2022 and is expected to register the fastest CAGR of 51.0% accounting to USD 320.5 Billion in 2030 in the voice over LTE (VoLTE) market. In addition, in the region, China accounted for the maximum revenue share of 35.6% in the year 2022. The growth in the region is credited to the presence of two densely populated countries including China and India that creates a large customer base for the growth of the VoLTE market. Additionally, Asia Pacific region is witnessing rapid digitalization across various sectors, including e-commerce, banking, healthcare, and entertainment. The digital transformation is driving the need for advanced communication services to support real-time voice and data interactions. VoLTE, with the seamless integration of voice and data services, is ideal to cater to the evolving communication needs of businesses and consumers in the region. In conclusion, the large customer base and rapid digitalization are the major factors responsible for fueling the growth of the VoLTE market in the region.