Market Segmentation :
By Type :
Based on the type, the market is divided into proximity sensor, temperature sensor, pressure sensor, vibration sensor, vision sensor, humidity sensor, others. The proximity sensor segment is accounted for the largest revenue share of 25.4% in the year 2022. Proximity sensors are extensively used in factory automation and industrial settings. These sensors are capable of detecting the presence or absence of an object within a certain range without any physical contact. In addition, these sensors are utilized for applications including object detection, position sensing, and safety. For instance, proximity sensor, MC33794 by NXP Semiconductor NV is designed for applications where non-contact sensing of object is desired.

Moreover, vision sensor segment is projected to grow at the fastest growth rate during the forecast period. Vision sensor are also known as machine vision system and are increasingly popular in automation for quality control, inspection, and imaging applications. These sensors utilize camera and image processing algorithms to analyze visual information thus making them more demanding for applications such as inspections, part recognition, and assembly verification. Furthermore, with the growth of industrial automation and implementation of technologies including artificial intelligence, machine learning, and others will boost the market growth of factory automation sensor.
By End Use :
Based on the end use, the market is segmented into pharmaceuticals, industrial automation, oil & gas, chemicals, energy & power, automotive, food & beverages, and others. Automotive segment is accounted to generate largest market share in the year 2022. The key factors attributed to the growth of the segment include increasing implementation of robots for manufacturing of vehicles. The rising demand for electric vehicles across the globe has been pushing the production line for each manufacturer to manufacture large volume of vehicles. Moreover, factors such as increasing awareness to environmental impact of carbon emissions is also promoting the demand for energy efficient production line which is ultimately driving the market growth of factory automation sensor. For instance, ABB Ltd. has introduced cobot family having series of robots namely, YuMi, GoFa, and SWIFTI for facilitating industrial production.

Moreover, industrial automation segment is projected to grow at the fastest growth rate during the forecast period. Owing to rising demand for process automation and optimization is expected to drive the market growth of the segment. The key attributing factor of industrial automation is to increase efficiency, improve productivity, enhance safety, and reduce human effort in manufacturing of goods. Moreover, sensors are capable of gathering data about various parameters including temperature, pressure, humidity, and others that help machines to function accurately and accordingly.
By Region :
The regional segment includes North America, Europe, Asia Pacific, Middle East and Africa, and Latin America.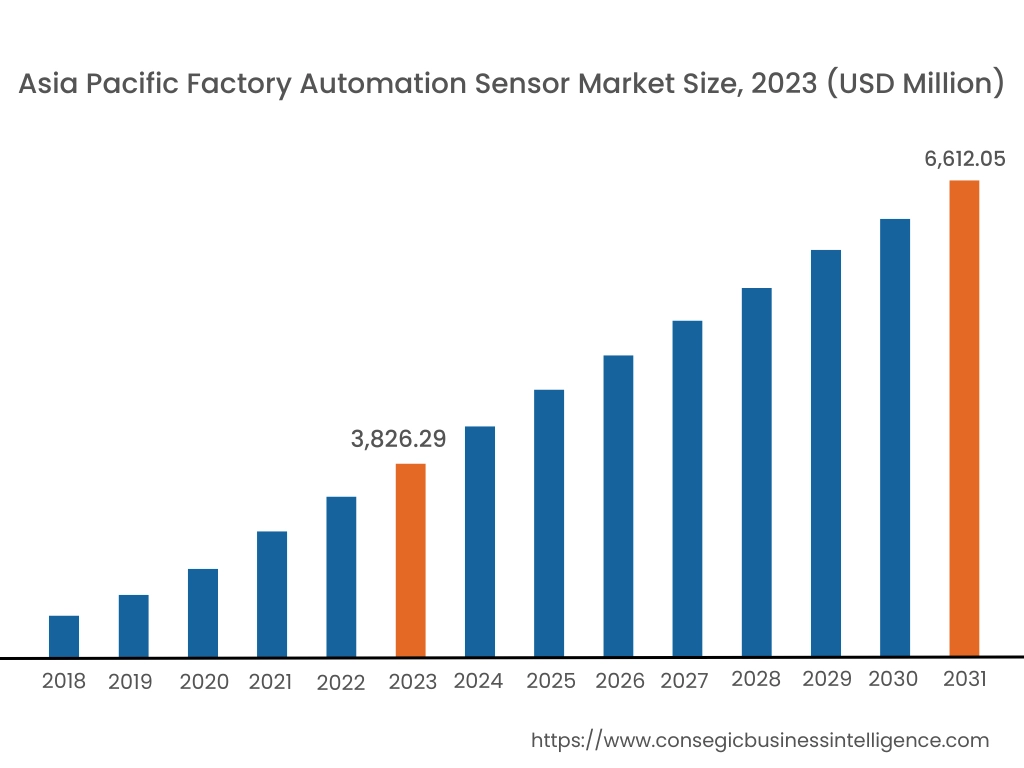 North America is accounted for the largest revenue share of USD 5,714.52 Million in 2022 and is expected to reach USD 9,595.50 Million by 2030. In addition, in the region, the U.S. accounted for the maximum revenue share of 62.3% in the same year. The adoption of factory automation sensor in North American region is primarily driven by factors including energy efficiency and sustainability coupled with presence of technological infrastructure. North America has robust technological infrastructure including reliable communication networks and advanced manufacturing facilities. Moreover, the implementation of multiple sensors in production line by large manufacturing units contributes to energy efficient practices by optimizing resources usage and minimizing waste.

Moreover, Asia-Pacific is expected to register fastest CAGR growth of 7.2% during the forecast period. Factor attributable to the growth of the region during the forecast period is due to increasing global competition. Countries including China and India are increasingly raising their industrial output to become global power. In addition, government initiatives by both countries to raise industrial productivity by means of Made in China and Make in India efforts will primarily boost the manufacturing sectors. Thus, owing to aforementioned factors, the region tends to foresee growth of factory automation sensor market. Furthermore, advent of emerging technologies including artificial intelligence, robotics, automation, and machine learning will proliferate the development of the region along with rise in demand for factory automation sensor.