Market Segmentation :
By Product Type :
The product type segment is trifurcated into 2D interposer, 2.5D interposer, and 3D interposer. 3D interposers accounted for the largest market share in 2022 and are also projected to witness the fastest CAGR during the forecast period. 3D interposers offer superior performance and functionality in comparison to 2D and 2.5D interposers. 3D interposers enable shorter interconnect lengths, higher interconnect density, and increased bandwidth by vertically stacking multiple chips through-silicon vias (TSVs). Shorter interconnect lengths results in improved system performance, reduced power consumption, and enhanced functionality, thus contributing significantly in driving the growth of the 3D interposer segment. In addition, the increasing adoption of 3D interposers in advanced packaging solutions to fit multiple processors and memory in a single package is also bolstering the market growth. For instance, in April 2023, Taiwan Semiconductor Manufacturing Company Limited (TSMC) launched the 2nm technology, RF technology with N4PRF, N3P, N3X, and N3AE processors, and 3DFabric system for advanced packaging and silicon stacking. The system employs 3D interposers to meet the growing demand for High-Performance Computing (HPC) applications to fit multiple processors and memory in a single package. The advanced TSMC, Chip on Wafer on Substrate solution is capable of accommodating 12 stacks of HBM memory, thus contributing remarkably in boosting the growth of the market.
By Application :
The application segment is classified into ASIC/FPGA, CIS, CPU/GPU, Logic SoC, MEMS 3D capping interposer, RF devices, and others. Logic SoC accounted for the largest market share in 2022 as interposers enable high-speed interconnects between various components to create a system on a chip (SoC) that provides low-loss signal transmission paths. Additionally, interposers also allow efficient power distribution and reduced electromagnetic interference, optimizing the overall performance of the system.

Moreover, interposers are capable of maintaining optimal operating temperatures in an electrical pathway to prevent thermal throttling, thus ensuring consistent performance of the system. Furthermore, the interposer also connects the chips across various signals at low latency and high bandwidth, hence contributing significantly in accelerating the growth of the Logic SoC segment. For instance, in March 2022, Apple launched M1 Ultra by using interposers for advanced packaging that connects the die of two M1 Max chips to form a system on a chip (SoC) offering improved levels of capabilities and performance. The device operates by utilizing a silicon interposer that connects the chip across 10000 signals, offering an 2.5TB/s of low latency and 4 times increased bandwidth to provide enhanced functionality and performance.

The ASIC/FPGA (Application-Specific Integrated Circuit/Field-Programmable Gate Array) segment is expected to register the fastest CAGR during the forecast period. ASICs and FPGAs are extensively employed in high-performance computing applications including data centers, artificial intelligence, machine learning, and scientific research. The applications require advanced processing capabilities, high-speed data transfer, and efficient power management capabilities. Interposers enable the integration of ASICs and FPGAs with other components, optimizing the performance and enabling higher computational efficiency. Additionally, advanced packaging technologies, namely 2.5D and 3D packaging, offer higher levels of integration, improved performance, and reduced form factors. ASICs and FPGAs leverage interposers to achieve the benefits of such advanced packaging technologies, further driving the adoption of interposers and fueling the growth of the market.
By End User :
The end-user segment is divided into telecommunication, consumer electronics, automotive, military & aerospace, and others. Consumer electronics accounted for the largest market share of 29.34% in 2022 as interposers are equipped with mobile devices to facilitate the integration of components including application processors, memory modules, and Radio Frequency (RF) modules, allowing for compact and efficient designs. Additionally, interposers enable signal routing, power delivery, and thermal management, thus contributing in enhancing the performance and functionality of mobile devices. For instance, in May 2021, Samsung launched Interposer Cube4 with next-generation 2.5D packaging technology. The advanced interposer offers High Bandwidth Memory (HBM) allowing multiple modules to operate as a single chip in one package. Additionally, Cube4 also provides faster communication and improved power efficiency between memory and logic through heterogeneous integration.

Telecommunication industry is anticipated to witness the fastest CAGR as interposers are deployed in network equipment namely routers, switches, and base stations to facilitate the integration of high-speed processors, memory modules, interface circuits, and power management components. Furthermore, in optical communication systems, interposers play a role in integrating optical transceivers, signal processing units, and interface circuits. Interposers provide the necessary interconnects for efficient transmission of optical signals, enabling high-speed data transfer and low latency in optical networks. In conclusion, the increasing adoption of interposers in network equipment and optical communication systems in the telecommunication industry is expected to drive market growth in the upcoming years.
By Region :
The regional segment includes North America, Europe, Asia Pacific, Middle East and Africa, and Latin America.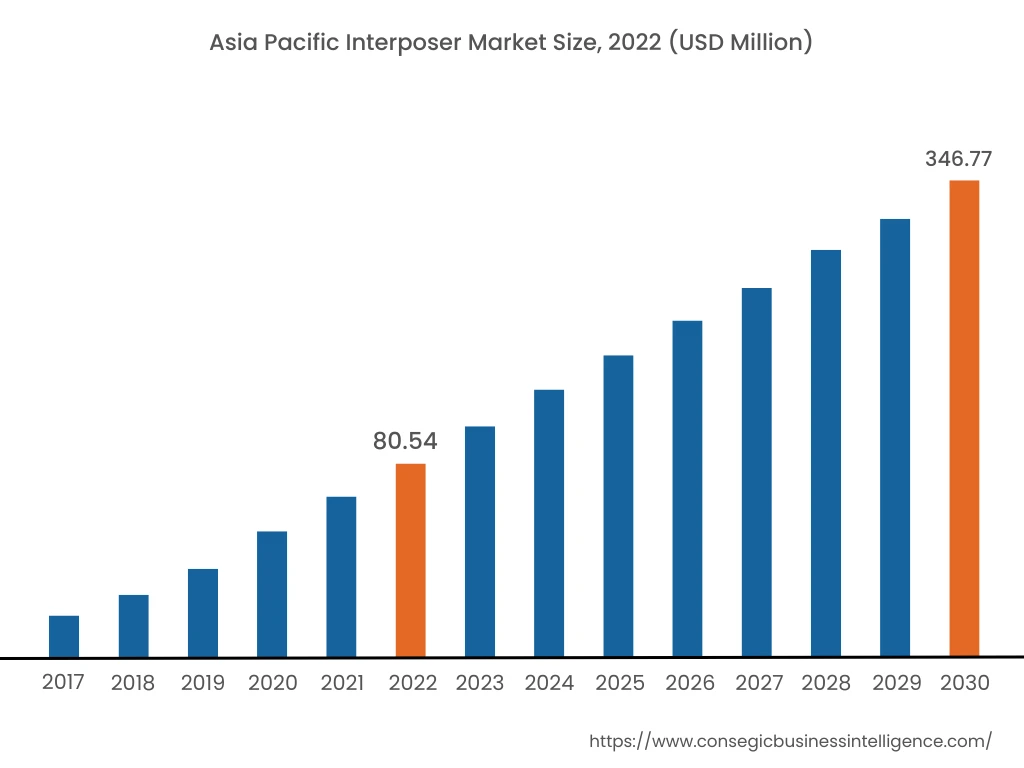 North America accounted for the largest revenue share in the year 2022 owing to the early adoption of advanced technologies including interposer technologies, such as 2.5D and 3D interposers. Additionally, the region possesses advanced fabrication facilities, assembly and testing capabilities, and a robust ecosystem of suppliers and service providers. The advanced infrastructure and supply chain favors the efficient production and deployment of interposers, further strengthening North America's position in the market. Moreover, the presence of key players in the region including Intel, SerialTek, Qualcomm, and Nvidia are investing heavily in research and development to develop cutting-edge interposer solutions. Subsequently, the expanding semiconductor industry and the presence of key players are the key factors responsible for accelerating the growth of the interposer market in the region. For instance, in May 2023, SerialTek launched PCI Express 6.0 Ready OCP 3.0 NIC and EDSFF interposer. The advanced interposers employ SI-Fi probing technology, thereby eliminating the need for long hours of calibration sequences, preserving the original signal quality of the link, and allowing real-time PCIe link training debugging.

Asia Pacific accounted for USD 80.54 Million in 2022 and is predicted to register the fastest CAGR of 20.3% accounting for USD 346.77 Million in the interposer market during the forecast period, 2023-30. In addition, in the region, China accounted for the maximum revenue share of 29.7% in the year 2022. The growth is endorsed by the rapidly expanding consumer electronics market that raises the demand for smartphones, tablets, televisions, and other devices. Interposers play a vital role in enabling the miniaturization, performance optimization, and functionality of consumer electronic devices, driving the growth of the market. Additionally, Asia Pacific is at the forefront of communication technologies, including 5G, Internet of Things (IoT), and artificial intelligence (AI). The technologies require advanced semiconductor solutions with high-speed interconnects and efficient power management. Interposers enable the integration of diverse components and optimize the performance of communication devices, thereby accelerating market growth in Asia Pacific countries.