Market Segmentation :
By Type :
The type segment is classified into lithium-ion batteries, metal-air batteries, magnesium-ion batteries, lithium-sulfur batteries, nickel-cadmium batteries, sodium-ion batteries, solid-electrolyte batteries, zinc-based batteries, and others. Lithium-ion batteries accounted for the largest market share in 2022 and is also projected to witness the fastest CAGR during the forecast period. The growth of the market is endorsed by the increasing adoption of lithium-ion batteries owing to the high energy density to store significant amounts of energy in a relatively small and lightweight package. Additionally, lithium-ion batteries have a long cycle life and are easily charged and discharged without significant capacity degradation. The longevity makes the batteries suitable for applications that require frequent use and recharge, including consumer electronics and electric vehicles. Moreover, lithium-ion batteries are extensively adopted across various industries and applications, including consumer electronics, electric vehicles, energy storage systems, and renewable energy integration.

Furthermore, the increasing investment by key players in the development of lithium-ion cell manufacturing plants for sustainable electric mobility is also contributing to market growth. For instance, in April 2022, Log9 Materials developed a lithium-ion cell manufacturing facility in Bengaluru with an initial investment of USD 25 million and a capacity of 25 megawatt-hours (MWh). The aim of the company is to attain 5 gigawatt-hours by 2026 to meet sustainable electric mobility, thus contributing remarkably in fueling the market growth in the upcoming years.
By Application :
The application segment is classified into consumer electronics, industrial, electric vehicles, renewable energy storage, and others. Consumer electronics accounted for the largest market share of 36.4% in 2022 as next-generation batteries are poised to revolutionize consumer electronics, offering improved performance, longer battery life, and enhanced user experiences. In addition, next-generation batteries enable smartphones and tablets to have longer battery life, faster charging capabilities, and improved energy efficiency, hence driving the growth of the consumer electronics segment. Moreover, next-generation batteries significantly enhance the battery life of laptops and ultrabooks, allowing users to work, browse, and stream content for longer periods eliminating the need to charge the device repeatedly. Furthermore, the compact and lightweight nature of next-generation batteries is ideal for wearable devices namely smartwatches, fitness trackers, and augmented reality (AR) glasses. The batteries provide extended longevity and enable efficient functioning of advanced features including continuous heart rate monitoring, GPS tracking, and immersive AR experiences. Subsequently, the aforementioned factors are collectively responsible in accelerating the growth of the consumer electronics segment.

The electric vehicle segment is anticipated to register the fastest CAGR in the next-generation batteries during the forecast period. The growth is credited to the ability of next-generation batteries to offer higher energy storage capacity per unit of weight, allowing EVs to travel farther on a single charge. Additionally, the emergence of all-solid-state batteries allows improved tolerance of high temperature and voltage, resulting in increased power output, shorter charging times, and a longer range of electric vehicles. For instance, in June 2023, Toyota Motor Corporation unveils Toyota's next-generation battery technology to provide high-energy storage capacity to electric vehicles. Toyota's battery-electric vehicles are expected to be introduced in the market in 2026 and 1.7 million of the 3.5 million Toyota's battery-electric vehicles are expected to sell in 2030. In conclusion, the surge in the sales of electric vehicles is increasing the demand of next-generation batteries, which in turn, promotes market growth.
By Region :
The regional segment includes North America, Europe, Asia Pacific, Middle East and Africa, and Latin America.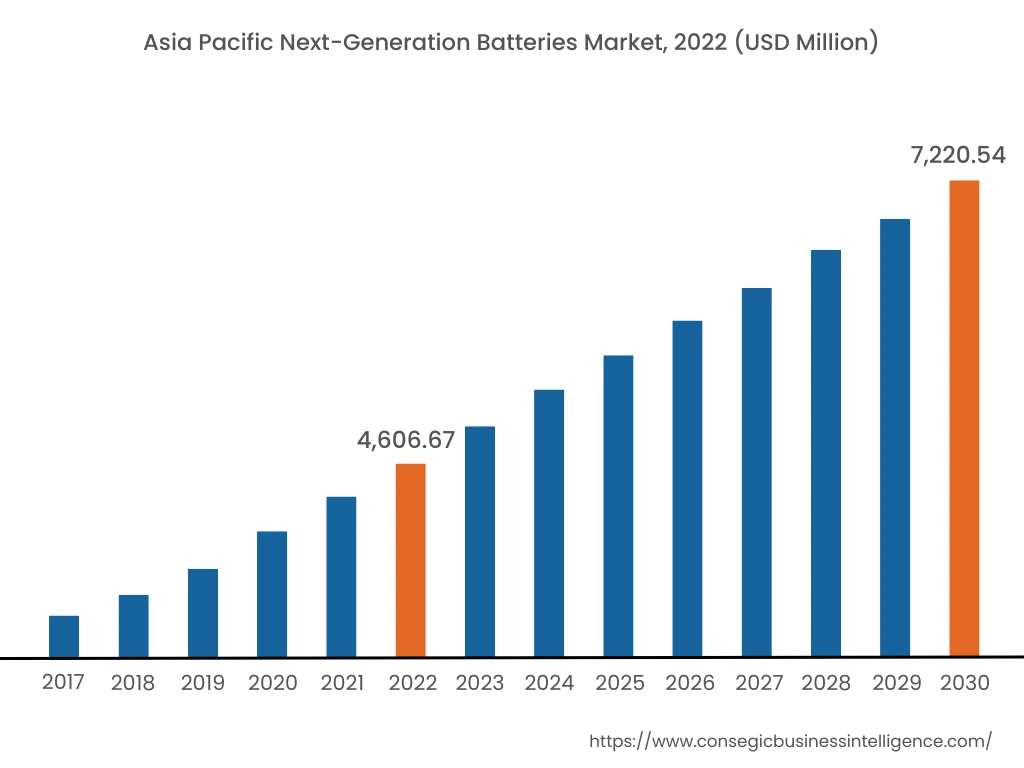 Asia Pacific accounted for the largest market share in 2022 accounting to USD 4,606.67 Million and is expected to register the fastest CAGR of 6.0% accounting to USD 7,220.54 Million in 2030 in the next-generation batteries market. In addition, in the region, China accounted for the maximum revenue share of 37.10% in the year 2022. The growth is attributed to the expanding consumer electronics market, including smartphones, tablets, laptops, and other portable devices that raise the demand for next-generation batteries to enable faster charging by reducing downtime. Additionally, Asia Pacific has a strong manufacturing base and a well-established supply chain for battery technologies. Countries including China, Japan, and South Korea are at the forefront of battery production, investing heavily in research and development, manufacturing facilities, and advanced battery technologies.

Moreover, Asia Pacific also encompasses the world's leading battery technology companies and research institutions. The entities are investing heavily in developing advancements in battery technologies, including lithium-ion batteries and emerging technologies namely solid-state batteries and lithium-sulfur batteries. The expertise and technological advancements offer Asia Pacific a competitive edge in the global market, thus contributing remarkably in propelling the market growth. For instance, in September 2021, TDK Ventures invested in AM Batteries to commercialize dry electrode coating technology to improve the manufacturing of lithium-ion batteries. Advanced technology enables fast charging, higher-energy density, and cost-effective measures, hence contributing considerably in accelerating the market growth.